So, I turned 30 this year, an event that came after a long year and a half of big life changes. I started thinking about what I wanted to do for my 30th birthday back when I was 28, because that was the year I lost my mom to cancer.
My mom lost her battle with cancer at the age of 60. Way too young, way too soon – and as my 30th birthday neared closer, I couldn't help but think "When my mom was 30, that was the halfway point of her life, and she had no idea."
I went through a variety of ideas, all centered around traveling somewhere to make the 30th celebration a true EXPERIENCE. I could have gone to New Orleans with a group of friends (but I do that a couple of times a year anyway). I could have gone to Spain (but that was barely financially reasonable for me, let alone a group of friends).
All I knew was that I wanted to have a memorable, multi-day experience with my closest friends to celebrate the big 3-0.
After a series of fortunate events in year 29, I ended up living in Florida, which it turns out is a state that has a lot of experiences to offer! So, I decided that we'd have a September birthday bash in my new home of St. Petersburg, Florida.
I began planning about 6 months out to ensure that everyone I invited had a chance to see if they could work the trip into their schedules. We settled on a weekend in late September, and a group of 12 amazing friends (and coworkers!) committed to making the trip happen.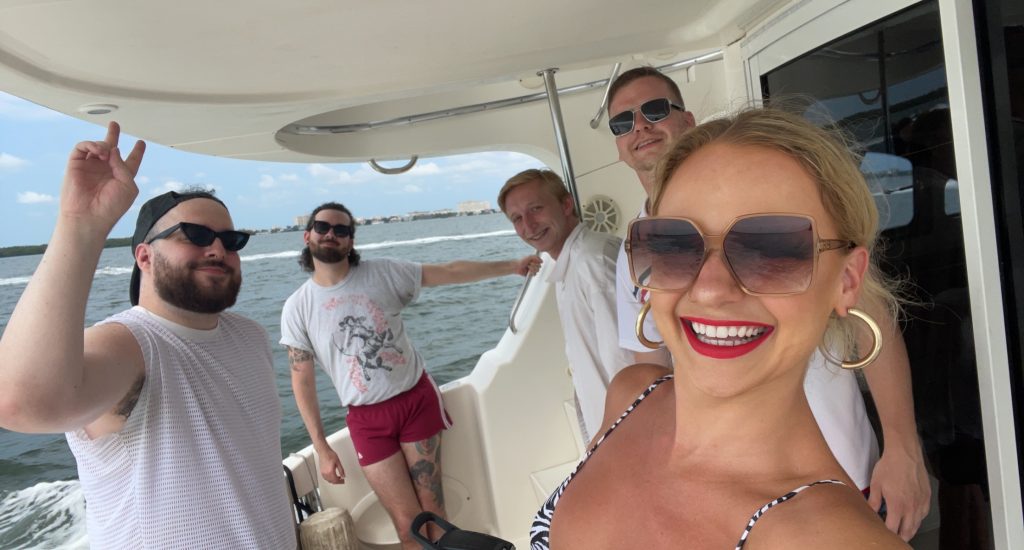 The itinerary for the weekend was roughly as follows:
Thursday:
Everyone arrives and settles into the Airbnb (I found an awesome house just a few minutes from my own that had a backyard pool and hot tub and plenty of space to entertain). We ordered pizza from BellaBrava (chef's kiss), and spent the evening hanging in the backyard or playing ping pong.
Friday:
Beach day! We slept in and headed over to St. Pete Beach for an afternoon in the sun (and several people came back with some pretty solid sunburns thanks to the cloudless day). That evening the theme was All Black as we got ready for dinner at Buya Ramen (also highly recommend).
Saturday:
Yacht day! We loaded up a few vehicles with coolers, our lunch & snacks, and met our captain down at the boat ramp. We had the yacht reserved for 4 hours (more below), with a couple of hours to buffer between getting back from the yacht and our dinner reservation at Sea Worthy Fish + Bar. Saturday's theme was disco, and everyone really showed out with their outfits.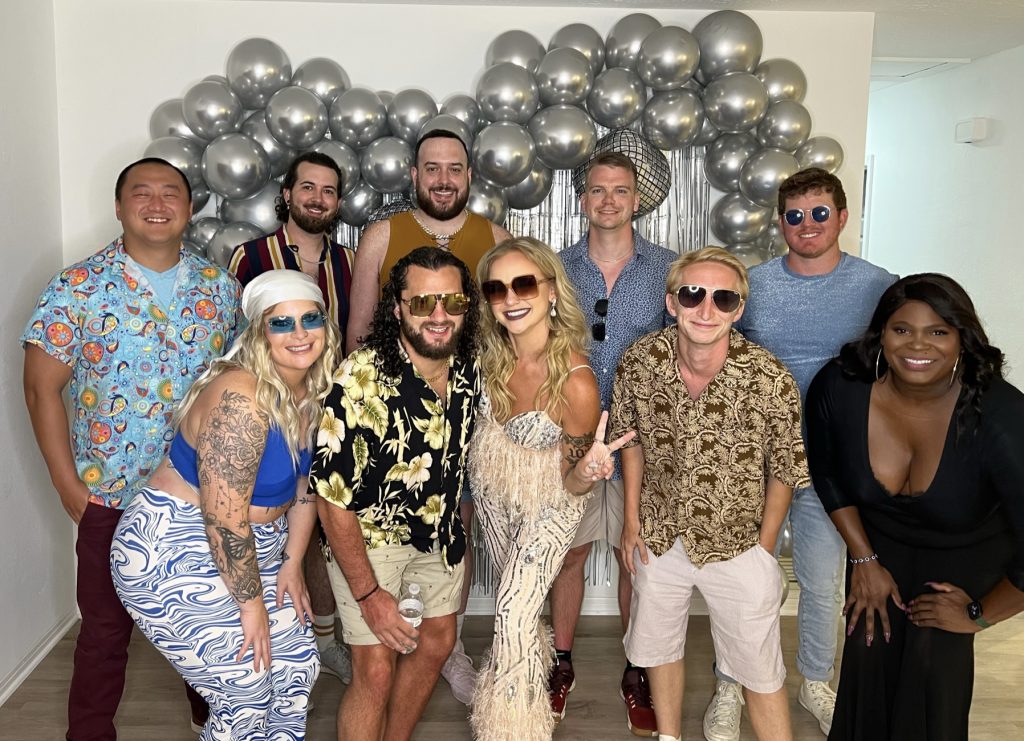 Unsurprisingly, it's pretty easy to find a yacht to rent in Florida, so I found one that looked suitable for our group: space outside for us to enjoy the sun and views, and a comfortable cabin with a bathroom for us to cool off and eat some snacks.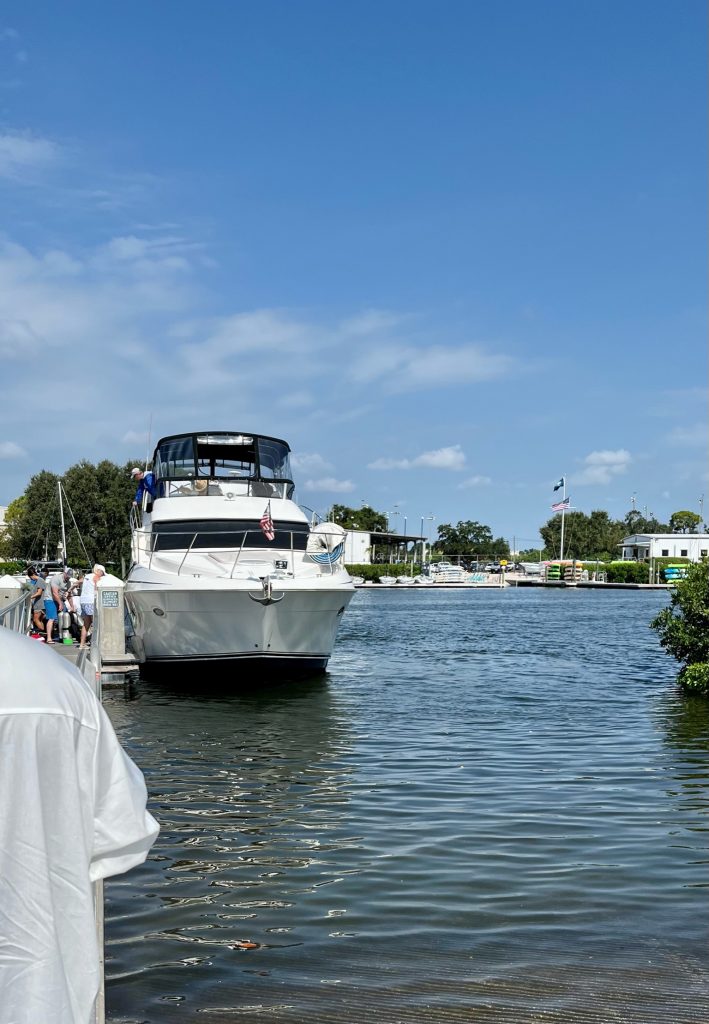 We had an awesome captain and a super fun First Mate, Rose, who made sure that everyone's drinks were full and the music was just the right volume. We departed from Pinellas Point and made our way northwest through the barrier islands and posted up at Shell Key Shoal for a couple of hours where people could swim over to the island, hang out on the lily pad, or chill on the yacht.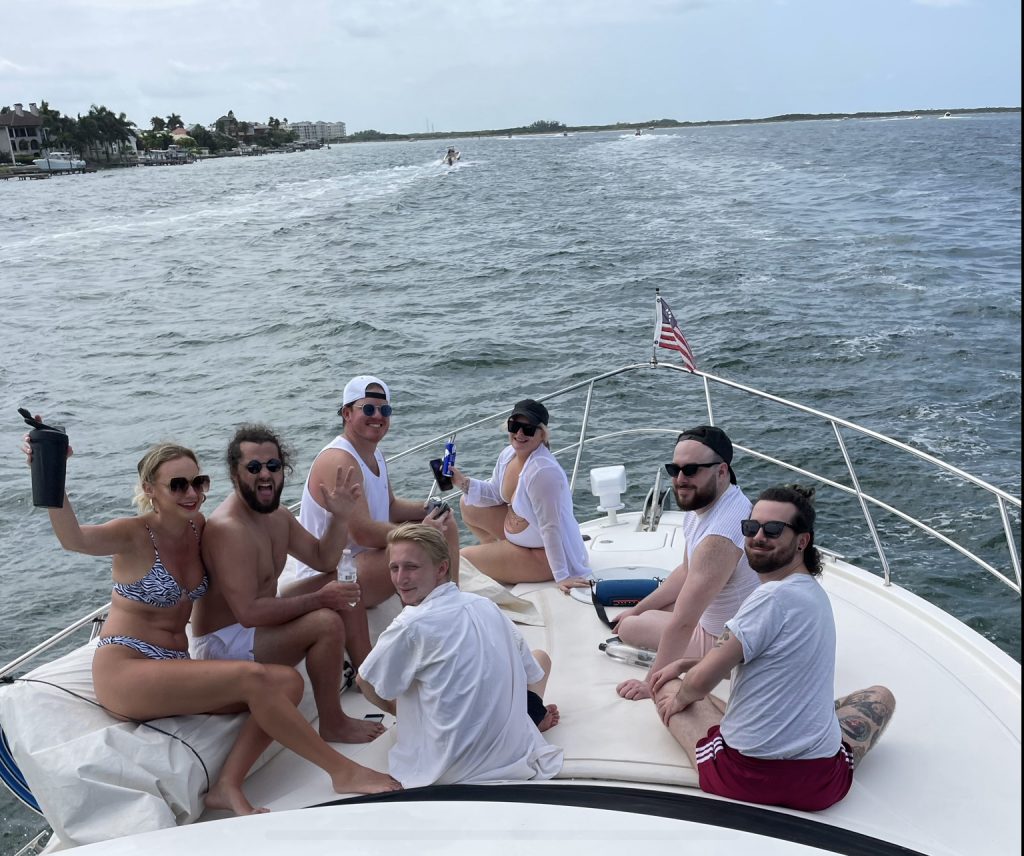 This was such an incredible, relaxing afternoon for everyone to hang out and enjoy the beautiful waters of St. Pete Beach. Captain George provided great recommendations on local spots to visit, and I think at least a few of my friends are seriously considering a move to Florida now.
At the time of writing this, I am sitting on the opposite side of Florida sheltering from Hurricane Ian, which (at one point), was projected to make landfall directly on the city of St. Petersburg/Tampa Bay. The storm went further south than originally projected, and has done extensive damage in the Fort Myers area of southwest Florida. My home was spared, but so many other homes were not, and many residents will be without power for days or weeks.
I am so thankful for Sprious' support of me as an employee, not only through the Experience Stipend that made this party possible, but for the #freedom & #empowerment that I have been given while navigating my first hurricane evacuation. Please keep the people of Florida and neighboring states in your thoughts as we navigate this hurricane season.